Your Source for Quality Christian Music
556 Ridge Road
Grantville, PA 17028
Phone: 717-469-4523

The Antrim Mennonite Choir has officially disbanded.
CDs are in a limited quantity.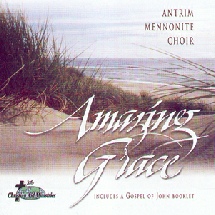 Amazing Grace
Antrim Mennonite Choir
Songs: Amazing Grace/I Heard the Voice of Jesus Say/In the Rifted Rock I'm Resting/Abide With Me/
The Lord My Shepherd Is/Be Not Dismayed Whate'er Betide/Someone is Praying for You/Shall I come
Just as I Am?/My Faith Looks Up to Thee/Rock of Ages/Does Jesus Care?/Have You Been to Jesus?/It is Well With My Soul/Day by Day/No Disappointment in Heaven/Just As I Am/
A Wonderful Savior/City of Gold
This the recording that was distributed in New York City after September 11.
All songs sung a cappella.