Your Source for Quality Christian Music
556 Ridge Road
Grantville, PA 17028
Phone: 717-469-4523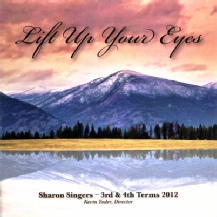 Lift Up Your Eyes
Sharon Singers
Songs: Sing Ye Righteous/Adoramus Te/Lord, I Want to be a Christian/At the Foot of the Cross/Holy God, We Praise Thy Name/One Day/Bless the Lord/To Whom Would We Go/Somebody Bigger/Speak, O Lord/Remember Thy Creator/We Thank Thee, Lord, We Bow/Come Ye Apart! It is the Lord/Little Lamb/Spirit of God, Descend Upon My Heart/I Go to the Rock/Hold Out Your Light/The Lord Bless You and Keep You/I Will Lift Up My Eyes
All songs sung acappella.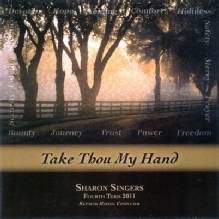 Take Thou My Hand
Sharon Singers, Fourth Term 2011
Songs: Lord, We Come Before You/Jesus, Thy Blood and Righteousness/Loving Shepherd of Thy Sheep/When I Survey/We Come/Secure/Freedom is Coming/Have You Not Known/Helig/Take Thou My Hand, O Father/Roll Away/Santo Salvadoreno/Caminando Voy/Deal Gently With Thy Servants, Lord/Abendlied/Ain'a That Good News/Keep Me True/
All songs sung a cappella.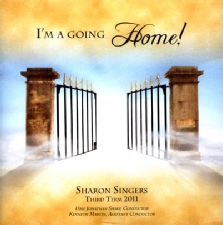 I am Going Home
Sharon Singers, 2011
Songs: Hallelujah/Bless the Lord/Santo Salvadoreno/I Believe/The Song of the Wounded Bird/Alas! And Did My Savior Bleed/Amazing Grace/O Heart Bowed Down With Sorrow/We Come/When I Can Read My Title Clear/Even So, Lord Jesus, Come/He That Shall Endure to the End/Ain'a That Good News/Home/I'll Be There/Going Home
All songs sung a cappella.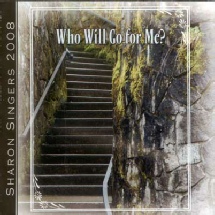 Who Will Come and Go With Me
Sharon Singers 2008
Songs: He Keeps me Singing/How Can I Keep from Singing?/All People that on Earth/Bound for Jubilee/Days of Elijah/And the Glory of the Lord/Prepare Ye/The Ninety and Nine/Tell It Again/Harvest Tiime/Here I am, Lord/Who is on the Lord's Side?/Hallelujah/Deep Waters/Row Together to the Kingdom/Who Will Go for Me?/Here I Am, Lord/Go Out and Serve Him/ Worthy is the Lamb
All songs sung a cappella.
Christmas in Grenada
Sharon Singers, 2007
Songs: Sing Ye Noel/Glory to God/Let Thy Holy Spirit/Great God, How Infinite/Lo, How a Rose e'er Blooming/O Love Divine/Silent Night/O Come, O Come Emmanuel/Away in a Manger/Mary's Little Boy Chile/Prepare Ye/Here Comes the Light/Let Your Light Shine!/We've Got Good News to Tell/Prayer for Stength/No Tears in Heaven
All songs sung a cappella.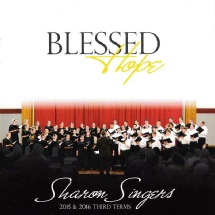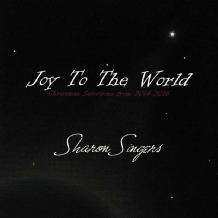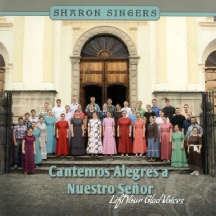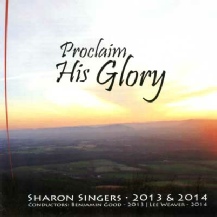 Proclaim His Glory
Sharon Singers , 2013 and 2014
Songs: O Sing Unto the Lord/Praise You, I Will Praise You/Hallelujah, Mungu Wa Israeli/Offertory/As For You My Son/I Sought the Lord/Halte Mich Fest/Sing For Joy Unto the Lord/In Your Silence/Yesterday, Today, Forever/A Mighty Fortess/This Is My Word/Our Father, Who In Heaven Art/Ride On, King Jesus/Lord, For Thy Tender Mercy's Sake/Wake, Awake
Directed by Lee Weaver and Benjamin Good.
Cantemors Alegres a Muestro Senor
(Lift Your Glad Voices)
Sharon Singers
Songs: Alleluia/Hijos de Dios/Santo, Holy/Te Queremos Alabar/Caminando Voy Para Canaan/Oh, Cristo Mio/La Tumba Se Abrio/LIft Your Glad Voices/A Cristo Coronad/Esto Les Digo/Siyahamba/Con Que Pagaremos/Senor Jesus, La Luz Del Dia Se Fue
This Spanish album commemorates the choir's ministry in Guatemala and El Salvador in 2015.
Joy to the World
Sharon Singers
Songs: Glory to God/This is the Truth Sent From Above/Though Your Sins be as Scarlet/Joy to the World/I Wonder as I Wander/You are the Light/Me-thinks I See an Heavenly Host/My Soul Doth Magnify the Lord/Song of Simeon/Lord, You Were Rich/How Far?/African Alleluia/Thou Didst, Leave Thy Throne/Longing for Light/Creator of the Stars of Night/Keep God's Light
A good recording of a few familiar Christmas carols and some not-so-familiar.
Blessed Hope
Sharon Singers
Songs: Creation Praise/Holy is God the Lord/To You, O Lord/The Image of God/God of Grace and God of Glory/Blessed is the One Who finds Wisdom/Clap Your Hands, All You Nations/My Jesus, I Love Thee/Blessed are the Men Who Fear Him/Trust in the Lord/He is Coming, the Man of Sorrows/The Lilly of the Valley/Hosanna! Blessed is He That Comes/I Have Heard Thy Voice, Lord Jesus/Ride the Chariot/May the God of Peace/The Lord Will Rescue Me
The Sharon Singers from Sharon Mennonite Bible School
"Cantemors Alegres a Muestro Senor" The Sharon Singers



I AM the LORD
Sharon Singers 2017 Third Term
Songs: All Hail The Power Of Jesus' Name/Holy Thy Name/Let Your Will Be Done/Children of the Heavenly Father/Come By Here/Be Thou My Vision/The Music Of Living/Guide My Feet/I Believe/I Am The Lord/Offertory/O Come To My Heart/I Will Rise/Mercy Flows
All songs acappella.
Come Seek Find
Sharon Singers 2018 Third and Fourth Terms
Songs: In Christ Alone/Angels Rolled De Stone Away/Come Thou Fount/Jehovah/Come To The Water/Tumekuja Kuimba (African)/If You Search With All Your Heart/The H Prayer/Prayer/Not I But Christ Be Honored/In Repentance And Rest/Who But The Lord?/And Can It Be?/I Am The Lord/He's Got The Whole World In His Hands/His Eye Is On The Sparrow/Do Not Be Afraid/I Know The Lord Laid His Hands On Me/The Lord Is My Light/Sing And Rejoice/Let All Mortal Flesh Keep Silence/Peace, Perfect Peace
All songs acappella.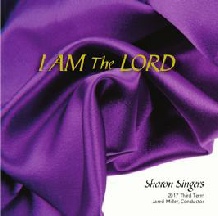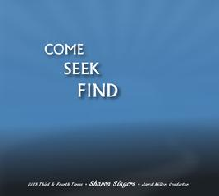 Faith Hope & Love
Sharon Singers 2020 Third Term
Songs: Let All The Nations Praise The Lord/Highest Place/We Come/He Is Faithful/By His Hand/I Believe/I Trust In You/Because He Lives/In Christ Alone/God Gives Us A Future With Hope/Blind Bartimaeus/The Love Of God/Heart With Loving Heart United
The Gift Of Love/Love Never Fails/Our Rock And Our Salvation
All songs acappella.