Your Source for Quality Christian Music
556 Ridge Road
Grantville, PA 17028
Phone: 717-277-8815

Thank you, Lord
Joyful Hearts
2013
Songs: In Christ Alone/And Can It Be/Highest Place/I Want to Thank You, Lord/Praise We Sing to Thee/Thank You Lord/I Wanna Than You Lord/A Tiny Light/In His Care/I Shall Not Be Moved/Strength to Stand/We Will Serve the Lord/Ain't Got Time to Die/In the Morning of Joy/Soon Ah Will Be Done/Goin' Up to Glory/Prayer of Thankful Praise
All songs sung acappella.
Go Out and Serve the Lord
Joyful Hearts
2012
Songs: Go Out and Serve Him/Prepare Ye/O Love That Will Not Let Me Go/Where He leads Me/All To Jesus I Surrender/Light the Fire/Holy Ghost, Dispel Our Sadness/Keep Your Lambs!/Transformed/Children Keep in the Middle of the Road/Press On/Harvest Time/Prayer of the Children/Row Together to the Kingdom/Working With Joy/Ride the Chariot
All songs sung acappella.
Sing a New Song
Joyful Hearts Chorus
2011
Songs: Holy God, We Praise Thy Name/Come, We That Love the Lord/Sing, Ye Righteous/Rejoice, Ye Pure In Heart/We Praise Thee, O God/Somebody's Knocking At Your Door/Follow Me/I Am The Bread of Life/He Restoreth My Soul/Blessed Be The Name of Jesus/When I Can Read My Title Clear/Unclouded Day/The Morning Trumpet/Christ Returneth/Jesus Is Coming Again/I'll Be There/Heart With Loving Heart United
All songs acappella.
A Joyous Christmas
Joyful Hearts Chorus
Songs: Lo, How a Rose E're Blooming/God Rest Ye Merry Gentlemen/Silent Night Medley/O Come, O Come Emmanuel/Tiny King/Away in a Manger/Bethlehem Procession/Noel We Sing/The Star and the Wise Men/In the Bleak Mid-Winter/Joy to the World/Piper's Carol/Angels We Have Heard on High/Glory to God Medley/We've God Good News to Tell/Go, Tell It On The Mountain/Here Comes the Light/Hallelujah Chorus/Joyous Christmas
All songs acappella.
Submitting to the God Who Owns Me
Joyful Hearts Chorus
2010
Songs: Holy, Holy, Holy/Zion's Walls/Let the Whole Creation Cry/I Will Sing of My Redeemer/Who Am I/He Rose Triumphantly/Christ is Arisen/Jesus Set the World to Singing/Greater Is He That Is In Me/Wherever You Are/True Evangelical Faith/By His Hand/Pierce My Ear/Days of Elijah/There'll Be No Dark Valley/Hold Our Your Light/If Ye Love Me
All songs acappella.
But Continue Thou
Joyful Hearts Chorus
2009
Songs: O Let All Who Thirst/If We Ever Needed the Lord Before/Fill Me Now/His Eye is on the Sparrow/Happy Am I/Take My Hand and Lead Me/We Are Not Alone/Prince of Peace/We'll Soon Be Done/The Call of Reapers/Jesus Bids Us Shine/Song for the Nations/I Know That My Redeemer Liveth/Are You Dressed for the Wedding?/I'll Have a New Life/Alpha and Omega/Set Me as a Seal
All songs acappella.
Love the Lord With All Your Heart
Joyful Hearts Chorus
2008
Songs: Breath of Heaven/Sing Unto the Lord/Bless His Name/The Heavenly Son/For Me to Live is Christ/Give God Immortal Praise/Prayer Medley/Keep Me True/His Footfall/Swing Down Chariot/Lord, Thou Hast Searched/O Love the Lord/Softly and Tenderly/Git on Board/How Beautiful Heaven Must Be/I Want to Fly/The Irish Blessing
All songs acappella.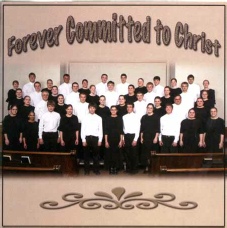 Forever Committed to Christ
Joyful Hearts Chorus
2007
Songs: Let Thy Holy Presence/O Come, Ye Servants of the Lord/I Sought the Lord/I Need Thee Every Hour/Be Thou My Vision/Jesus, Thou Joy of Loving Hearts/Love Through Me/Holy Ground Medley/Keep on the Firing Line/Where He Leads Me/O Master, Let Me Walk With Thee/Whatever It Takes/Down by the Riverside/Dwelling in Beulah Land/Hark, I Hear the Harps Eternal/Now the Day is Over
All songs acappella.
How Great Thou Art
Joyful Hearts Chorus
2004
Songs: Holy Art Thou/O Come Let Us Worship/Cherubim Song/I Sing the Mighty Power of God/Lift Thine Eyes to the Mountains/Praise Thou the Lord, O My Soul/God is Seen/Praise We Sing to Thee/Prayer of Thankful Praise/When I Survey the Wondrous Cross/Beyond all Comparing/God is in His Temple/Dere's No Hidin' Place/Joy in the Morning/I Got Shoes/Ride the Chariot/God be With You/Everlasting God
All songs acappella.
Complete in Thee
Joyful Hearts Chorus
2014
Songs: Praise the Lord! Ye Heavens, Adore Him!/'Tis Marvelous and Wonderful/Praise Thou the Lord/Glory Be to God/Lord, I Need You/Lo, My Shepherd is Divine/Leaning on the Everlasting Arms/O Source of All/The Way That He Loves/I Saw the Light/Complete in Thee/You Are Mine/I Know the Lord's Laid His Hands on Me/Rise! We Shall Rise-Heaven's Jubilee-We Shall Rise/Climbin' Up the Mountain/I'm Goin' Home/Hallowed Be Thy Name
Another nice recording from this youth choir in Pennsylvania.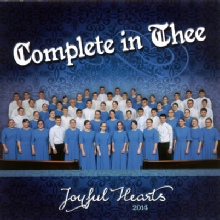 Goin' To Bethlehem
Joyful Hearts Chorus
Songs: Rejoice With Joy to the World/Come and Sing/Goin' to Bethlehem/We're Goin' Up to Bethlehem/How Should a King Come?/Infant Holy/Christmas Birthday/Born, He is Born/The First Noel/A Tiny Light/One Small Child/Glory be to God/Run to Bethlehem/The Little Drummer Boy/Mary Did You Know/O Beautiful Star of Bethelehem/Star of the East (Brightest and Best)/Come, Let Us Adore Him/Noel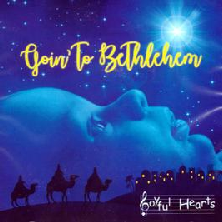 Restore My Soul!
Joyful Hearts
2016
Songs: Praise to the Lord/Restore My Soul/Listen to Our Hearts/Father, I Adore You-Alleluia/Immortal, Invisible/Mighty God/We Praise Thee, O God/Thank You, Lord/Day By Day/Ride On, King Jesus/Use My Life as Kindling/Change My Heart, O God/Richly Blest/God is Able/You Are My Hiding Place/Lord Jesus, You Shall Be My Song/This Great Caravan/The Lord is My Light
All songs sung acappella.
Brighten Your Corner!
Joyful Hearts Chorus
2017
Songs: We Shall Assemble/The Battle Belongs to the Lord/You Are My All in All/Lord Most High/The Power of the Cross/When I Think of the Cross/O the Deep, Deep Love of Jesus/Who is on the Lord's Side?/I Will Sing Unto the Lord/Send the Light/Try God, Try Prayer, Try Love/You are the Light of the World/Brighten the Corner/Can the World See Jesus?/People Need the Lord/Wake Up, Church, Wake Up!/Let Your Light Singe!/Send Forth Thy Spirit
All songs sung acappella.
The Yearning
Joyful Hearts Chorus
2018
Songs: The Yearning/Come, We That Love the Lord/I Am the Bread of Life/Love Through Me/O Love the Lord/Pierce My Ear/We Are Not Alone/Wherever You Are/Song for the Nations/Days of Elijah/the Sands of Time/Eternal God/Are You Dressed for the Wedding?/I'm Going There/I'll Have a New Life/Unclouded Day/Alpha and Omega
All songs sung acappella.