Your Source for Quality Christian Music
556 Ridge Road
Grantville, PA 17028
Phone: 717-277-8815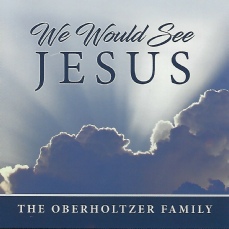 We Would See Jesus
The Oberholtzer Family
Songs: Savior, Savior, Savior / We Would See Jesus / Show Me Thy Face / O Thou In Whose Presence / O Grant Us Light / Complete In Thee / Yesu Kwetu Ni Rafiki (Swahili) / Gracious Father / Let All Mortal Flesh Keep Silence / Great God, How Infinite Art Thou / Be Still and Know / My God, I Thank Thee / Eternal God / O King of Endless Universe / What Joy - Within the Courts of God
A delightful, well-done album by the extended Clinton Oberholtzer family. Solid hymn and choral selections. A variety of men's, ladies', and mixed verses and songs. Clear, well-blended, authentic voices. All songs acappella.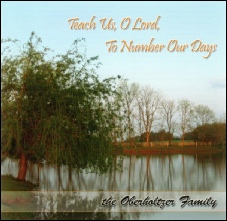 Teach Us, O Lord, to Number Our Days
The Oberholtzer Family
Songs: Only One Life / Teach Me, O Lord, To Number My Days / Family Joy / I Believe In God / Is Your All on the Altar? / God Leads Us Along / Fully Surrendered, Lord Divine / O Holy Saviour / He Know Just What I Need / Someone Is Praying For You / Under His Wings / Be Still My Soul / I Hold His Hand / When We See Christ / Eternal Father
The original album for the Clinton Oberholtzer family. This album was born as the family coped with the tragic loss of two sons. Meaningful selections performed in traditional, solid family style. The family was younger and their youthful voices give this recording a different feel than "We Would See Jesus" All songs acappella.