Your Source for Quality Christian Music
556 Ridge Road
Grantville, PA 17028
Phone: 717-469-4523

Heart and Voice
An annual men's singing weekend under the ministry
of Faith Builder's Educational Programs.
Silent Night
Heart and Voice Men's Chorus
Songs: Of the Father's Love Begotten/Lo, How a Rose E'er Blooming/O Holy Child/Magnificat/Silent Night/Suo Gan/Tiny Little Baby/Mary Had a Baby/Christmas Angel/Shepherds, Shake Off Your Drowsy Sleep/Rise Up Shepherd and Follow/Shepherds Hurry!/We've Got Good News to Tell!The Star and the Wise Men/Yule-Tide Fires/Salvation Belongeth to Our God
All songs sung acapella.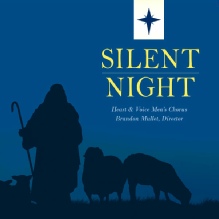 Called, Forgiven and Blessed
Heart and Voice Men's Chorus
Songs: In Thy Holy Place We Bow/Non Nobis, Domine/Create in Me a Clean Heart, O God/Were You There/Sinnuh Man/Agnus Dei/Simple Gifts/Witness/How Can I Keep from Singing?/When I Lift Up My Head/Think About These Things/The Sweet By and By/Wade in de Wahduh/E'en So, Lord Jesus, Quickly Come/We Shall Walk Through the Valley
Another very nice men's recording of acapella choral music and hymns from Faith Builders and Brandon Mullet.