Your Source for Quality Christian Music
805 Horning Road
Richfield, PA 17086
Phone: 717-694-3887

Abide With Me
The Faith Builders Chorale
Songs: Laudate Dominum / Arise, Shine / And the Ransomed of the Lord / I Will Give You / You Shall Go Out in Joy / Almighty and Everlasting God / Indodana / What Wonderous Love Is This / Even When He Is Silent / Alleluia / The Road Home / O Love the Lord / I Hear Thy Voice / My Soul's Been Anchored / Working with Joy / God Shall Wipe Away All Tears / Beautiful Morning / Abide with Me, 'Tis Eventide / You Are the Light of the World
Songs of Refuge & Hope. All songs sung acappella.
Recorded as part of Faith Builders Chorale's 2019 tour of the British Isles. Beautiful arrangements masterfully sung. A solid performance sure to delight and inspire you.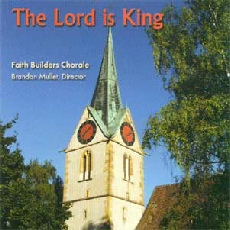 The Lord is King
Faith Builders Chorale
Songs: Heilig/Cantate Domino/To Thee, O Lord/Richte mich, Gott/Lobe den Herren/Ubi Caritas/Kommet her/Beyond All Comparing/The Lord is King/Abendlied/Singet dem Herrn ein neues Lied/He Who WouldFollow Christ/True Evanglical Faith/Take My Hand/Is Any Afflicted?/Healing River/Do,Lord, Remember Me/Deep River/I Got A Key/Friede Sei mit Euch
All songs sung acappella. Insert includes translations of German and Latin songs.
Upon Your Heart
The Faith Builders Chorale
Songs: Pilgrim's Hymn/God Is Seen/Lord, For Thy Tender Mercies Sake/Arisen Is Our Blessed Lord/Upon Your Heart/Bitter-Sweet/My Song In The Night/I Will Arise/He That Shall Endure To The End/Shout For Joy/If Ye Love Me/Soon ah Will be Done wi' de Troubles of dis Worl'/By And By/Lord Jesus, You Shall be My Song/Unclouded Day/Stay With Us
Songs of Love and Hope. All songs sung acappella.