Your Source for Quality Christian Music
556 Ridge Road
Grantville, PA 17028
Phone: 717-469-4523

Thanks and Praise
Nathan Good Family 2012
Songs: Honor the Lord Medley/Thank the Lord/Praise to God; Lord, Should Rising Whirlwinds/All flesh is Grass/God Never Sows in Vain/The Lord Shall Preserve You/A Tiny Seed/Ah, Holy Jesus/Angels Rolled De Stone Away/Live A-humble/Thanks Be To God/O Lord of Heaven and Earth/We Thank You, Lord/We Are So Blessed/The World Needs a Song
A couple of the songs incorporate the entire family, including young children. The others are performed by different groupings of the adults. The album has a general theme of praise, but a number of the song ideas specifically encourage thanks. All songs acappella.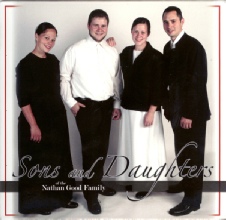 Sons and Daughters of the Nathan Good Family
(CD in sleeve only)
Songs: Bless God, My Soul/Seasons' Beauty/Judge Eternal/Church of Christ/I Commit My Love to You/O Holy Night/Plenty Good Room/Revelation 19/Show Me Thy Face/O Gladsome Light
A good recording of difficult choral music by a quartet of sisters and brothers. All songs acappella.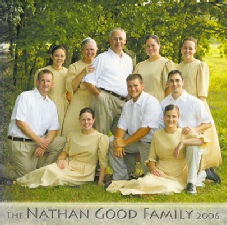 The Nathan Good Family 2006
Songs: I Will Enter His Gates (Medley)/What Is This Place/For the Fruit of All Creation/Nativity Lullaby/Just to Think of the Cross/O Love Divine/Pierce My Ear/My Jesus, I Love Thee/Shine Upon Us/We Shall Walk Through the Valley of Peace/By the Waters of Babylon/Wherever You Are/My Lord's a-Writin'/When Love Shines In/The Potter's Hand/Peace/Jesus is Coming Again/
An excellent recording of a very talented family singing songs they love. Recording at the St. John's Episcopal Church in South Boston, VA., giving the recording a very natural sound.